Scripts and Automation: Sweep Generator Application
This is a small application for use with the dScope Series III for generating audio sine sweeps. It is primarily intended for creating test files for measuring playback only devices.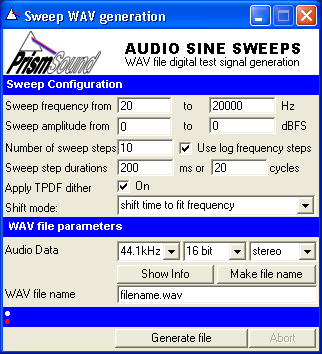 Notes
This program is intended for use with dScope Series III and requires that the dScope Series III software be installed. The resulting waveforms are stored in the dScope Series III "User wavetables" folder. The software is a single executable that should run on any recent Windows computer.
The program generates frequency sweeps, amplitude sweeps or combined amplitude and frequency sweeps. It is also possible to generate single tones by setting the number of sweep steps to zero. The output files are canonical format WAV files at 16, 18, 20, 22 or 24 bit resolution and 32, 44.1, 48, 96 or 192kHz sample rates, mono to 8 channels (all channels contain identical data).
The download zip file contains the executable and fuller documentation in PDF format.
---
Resource Type:

Scripts and Automation (File Download)


Download Link (https:):

Sweep_Generator.zip


Size:

94 KiB


Date

2013-06-05



Relevant Products: